3 cans chicken soup
3 cups H2O
1 whole onion
4 bitter melons
1 lb ground pork
Green onion
1 white onion
Black fungus
Chinese vermicelli
Fish sauce
chicken powder
Salt
Black pepper
Sugar

Cut the bitter melon in half, slice the middle then remove seeds. Wash and put aside

******Notice: if u want the bitter melons to be less bitter, boil them in hot water a few times before stuffing them with meat ********

Marinate:

Step 1:

1. Soak 1/2 bowl of Chinese vermicelli and 1/2 bowl of black fungus for 15 minutes
2. Cut into fine pieces

Step 2:

1. 1/2 tsp chicken powder
2. 1/2 tsp salt
3. 1 tsp sugar
4. 1/2 tsp black pepper
5. 1 tsp full fish sauce
6. 1 soupspoon chopped onion
Mix well and let sit for 15 minutes

Step 3:

1. When 3 cans of chicken broth and 3 cups of water in the pot with 1 whole white onion  started to boil, add 1/2 tsp salt, 1/2 tsp sugar, and 1 tsp fish sauce

Step 4:

1. Put meat stuffings in the middle of the bitter melon
2. When the bitter melon softens, add 1 tsp fish sauce, 1 tsp chicken powder, 1/2 tsp sugar, pinch of salt and  black pepper
3. Cook for an additional 5 minutes and it's ready to serve.
We're having this bitter melon again. I used ground beef this time since I prefer beef over pork anyways. I think it taste better than pork. Ooh, the bitterness and juicy soup from the beef is so good. Yum!
I heard bitter melon has some good health benefits especially very good for those who are diabetic. I just did some good search and found that this bitter gourd juice  contains a train of important nutrients ranging from iron, magnesium, K+,  Vit C. and Ca+.
Last week, Hubby told me to boil it 3 Times (gourd only, with no stuffings yet in different water)since he didn't like the bitterness. I only did it once, saved the water for later drinking and lied to him I did it 3x already when it's only done once. It's healthier for him so a little white lie won't hurt.
I later told him the health benefits of the juice so now he's fine with boiling and changing out the    water once. With the first boiled gourd juice, he's now drinking it too. Lol
Yep, I told him if he wants to look young and pretty like me, he has to eat what I eat and drink what I drink. Hahah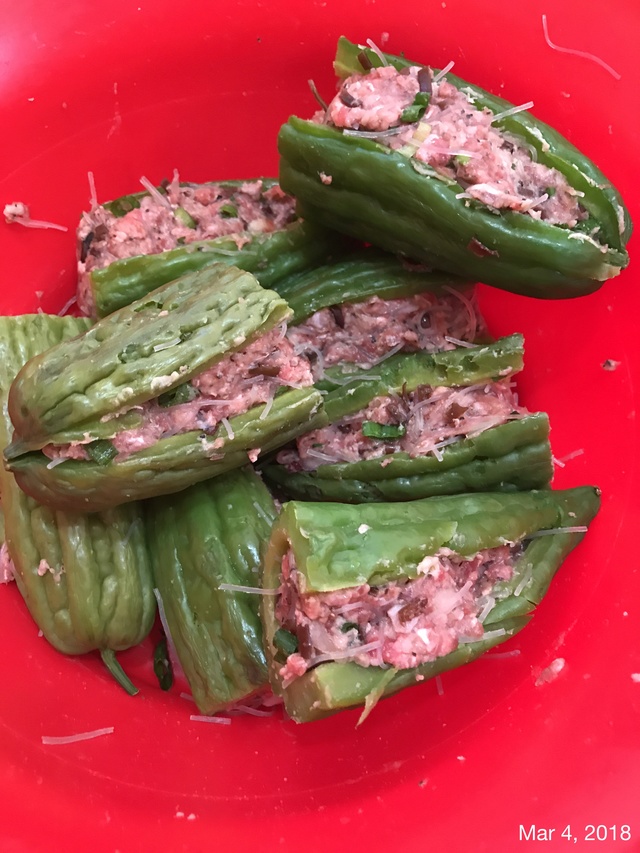 ---
Permissions in this forum:
You
cannot
reply to topics in this forum