Banh=Cake
Bo= Cow
It's called Cow Cake because of the inner  texure that resembles that of a Cow liver. The great thing about this Cow Cake is it doesn't come from a Cow and is good for all vegans.
I hope my first attempt will be a success. I will type up my recipe and pictures on how to do them soon.
Ingredients:
1/2 cup of warm water +2 tsp active dry yeast + 1 tsp sugar mixed together
1lb of rice flour
1/3 cup of tapioca starch
1 1/2 cups sugar
1 packet vanilla sugar
1-14 oz can of coconut milk
1/4 cup of cooking oil
1. Prepare yeast mixture
1/2 cup of warm water +2 tsp active dry yeast mixed together
add 1tsp sugar and stir until sugar is completely dissolved
Let sit aside for 15 minutes
2. Prepare flour mixture
In large bowl, pour out 1 lb of rice flour
Add 1/3 cup if tapioca starch
2 1/2 cups of warm water
Whisk until mixture is free of lumps and smooth
3. When yeast is frothy, pour 1 into 2 then whisk
4. Cover mixture with plastic wrap and stick in microwave with light on and let rest for 2 hours
( I'm resting mine overnight since I prepared the mixtures a little late).
5. In cooking pot on high heat, add 1 1/2 cups of sugar, packet of vanilla and 1-14 oz can of coconut milk. Stir constantly then turn to low heat and continue stirring for another 15 minutes .
6. Let sit aside to cool off
7. Boil 1/2 cup of water then add into #5 (coconut sugar mixture) then add 1 tsp salt, whisk
8. When coconut mixture has cooled off, pour it into the flour mixture, see #4 and whisk
9. Strain batter for any lumps
10. Divide into 4-6 portions (depending on the number of colors u want)
11. You're now to color ur Cow by adding in your choice of color into each batter in the divided portion
12. Let batter rest for another 20 minutes
13. Fill steamer up with water then turn fire to high
14. Rub each muffin cups with oil and steam ( no batter yet)
15. Wrap lid with a towel so moisture won't drip onto ur Cake
16. Add batter into each muffin cup
17. Steam for 7-10 minutes
18. Let the steamed muffin cups sit aside for for 5 minutes to cool off before removing them
I will provide pictures later. I have a feeling this will be a success.
Coconut Mixture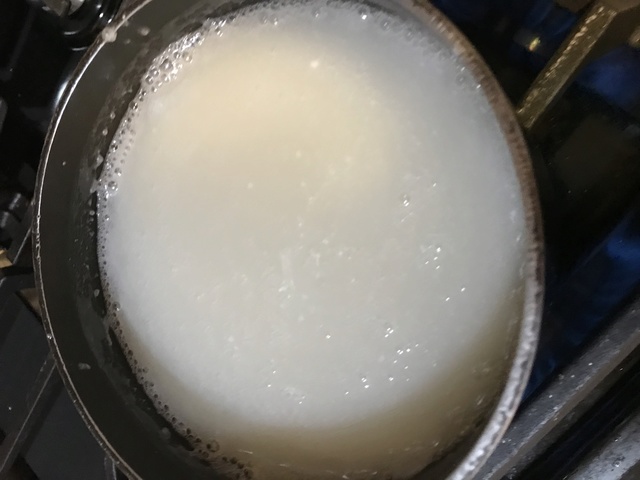 Flour mixture with yeast that'll be resting for 2 hours and in my case, overnight. I will have the light on all night to keep the yeast active due to the cold winter weather.
It should be frothy like this.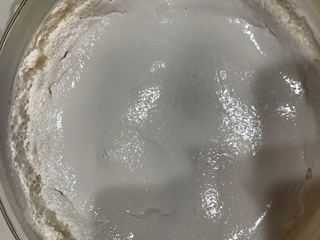 Add 1/2 cup of hot water into coconut with sugar mixture. Stir then stick into microwave for 1 minute. Whisk again then let it cool to room temp before pouring it into the flour mixture.
You color ur cow whatever color u like.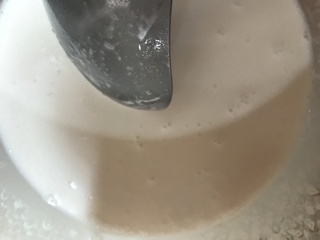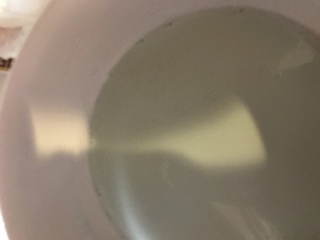 Steam them for 7-10 minutes and this is the final product.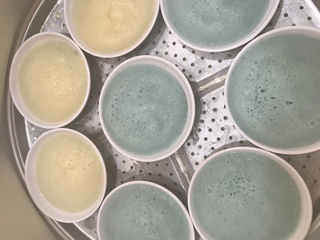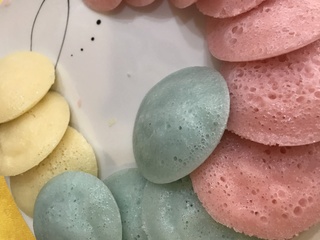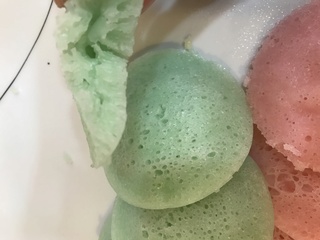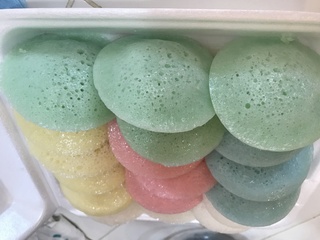 ---
Permissions in this forum:
You
cannot
reply to topics in this forum