This will be my project, if I have time this weekend. Never made it before but will try. More pics to come.
Ingredients:
Mussels
Shrimp
Squid
Scallops
**I bought the mixed ones at Winco since I didn't have much time.
1/2 Bell pepper
Broccoli
Bok choy
Carrots
Ginger
green onion
Green peas
1 can chicken soup
2 soupspoon of Tapioca starch mixed with soupspoon of cold water (prep then put aside for last step)
Step 1:
1. In hot boiling water, add 1 tsp cooking oil and 1/2 tsp salt
2. In boiling water, add the greens such as bok choy, broccoli, and green peas and carrots  for about 3 minutes then drain
Step 2:
Prepare 1 big Pot filled 1/4 with cooking oil on high heat then fry the egg noodles
1. Fry 1 side for a few minutes then fry the other side
**My noodles didn't spread flatter and bigger  due to a smaller pot I used**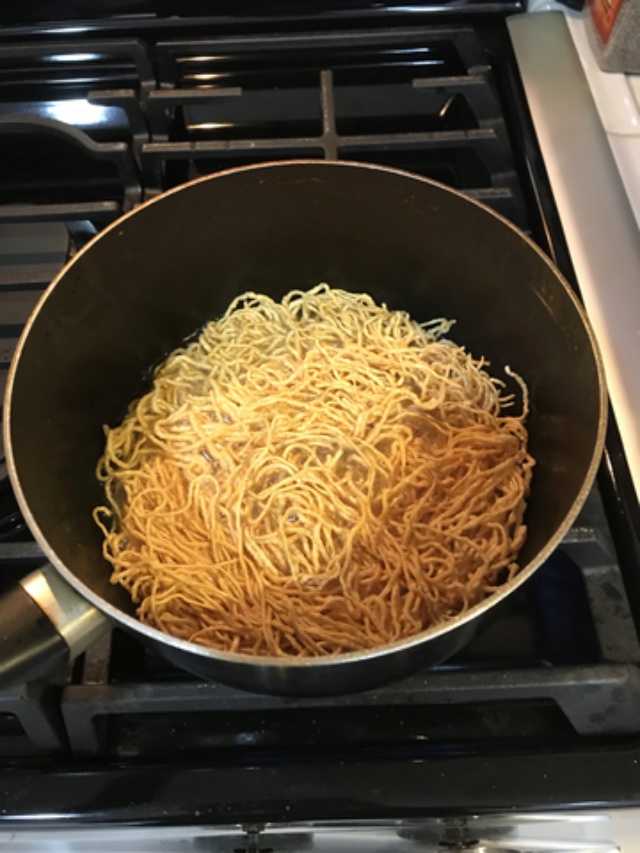 Step 3:
Prepare 1 big pan on high heat getting to stir fry
1. Add 1 soupspoon of diced ginger
2. Add 1 soup soon  of diced onion
3. Add scallops, then squid, following by shrimp then mussels.
4. Stir fry then add 1/2 tsp salt, 1/2 sugar and 1 tsp chicken powder
5. Then add 1 soupspoon  of hoisin sauce then add broiled veggies in, including bell peppers
*****Keep heat high at all times****
6. Then add 1 can of chicken soup then add the prep tapioca starch in slowly so sauce will me pastey
7. Add green onion cut in 1" then diced yellow onion
8. Stir fry again then add sesame oil
9. stir well for another minutes and you're done.
Add cilantro on top to finish.
My first time is alright. I was short of  time and will post a better pic when I make it again but u get the picture.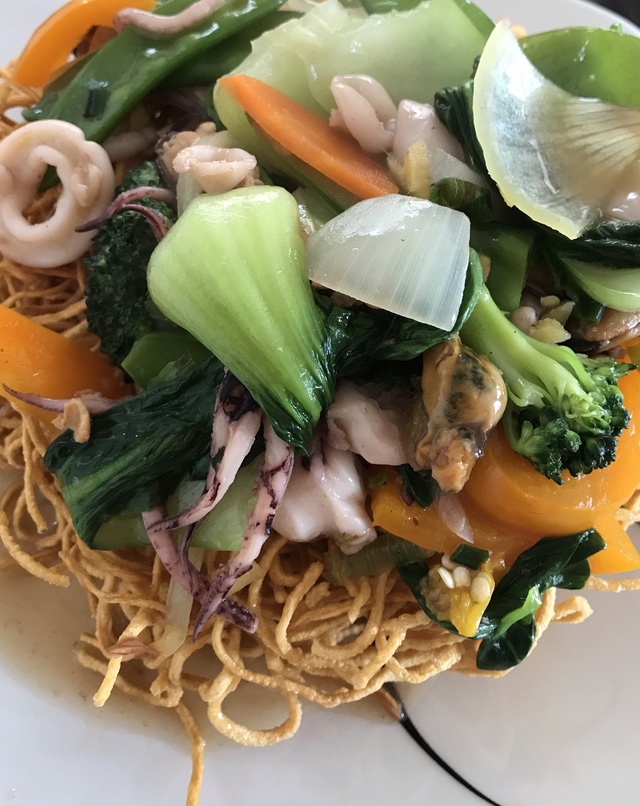 ---
Permissions in this forum:
You
cannot
reply to topics in this forum