Ingredients:

3 cups glutinous rice soak overnight
1-12 oz bag of peanuts in shells soak overnight
1/2 coconut cream
1 packet of coconut powder
1 fresh young coconut
Coconut grater
Sesame seeds
Peanuts ( without shells)

Step 1:

1.  In boiling water, add 1/2 tsp salt and 1-12 oz peanuts in and cook for 15 minutes
2.  Prepare steamer with water and turn heat to high
3.  Rinse glutinous rice and pour in drainer
4.  After 15 minutes, When peanuts are semi cooked, pour  in drainer and let sit
5. In a glass bowl, pour in glutinous rice and Mix with peanuts then add 1/2 tsp salt
6.  When steamer reaches boiling point, put #5 in tray (leaving middle open)

Set timer for 15 minutes

Step 2:
1.  Roast 4 soupspoon of crushed peanuts
2.  Roast 1 soupspoon of sesame seeds
3.  Mix #1 and #2 together then add 2 soupspoon sugar and 1 tsp salt, mix well

Step 3:

1.  After 15 minutes into steaming, add 1/2 cup of coconut cream into rice, stir well with chopsticks then close lid
2.  5 miniutes later, put in 1 packet of coconut powder,stir well again using chopsticks only. Close lid.
2. Let steam for an additional 10 minutes and you're done.

Set timer for 10 minutes

Step 4:
1. Grate coconut

Ready to serve
This was one of the snacks I made for our family reunion.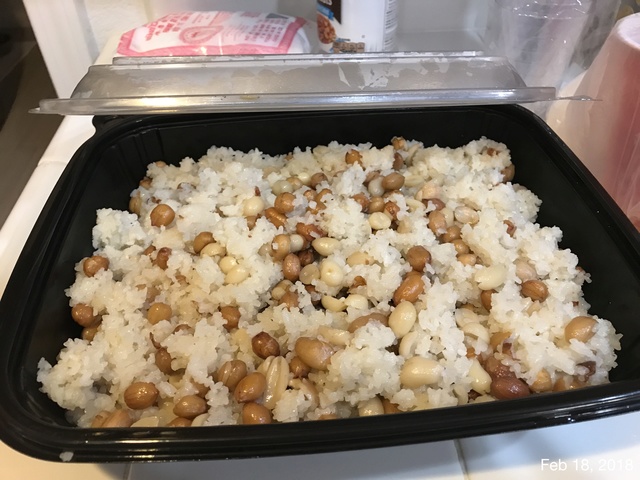 ---
Permissions in this forum:
You
cannot
reply to topics in this forum