What you need:
Ground beef
Shrimp 
Minced prawn 
Tomatos
Cooked pork blood
Fried tofu 
Garlic
Fish sauce
Ketchup
Salt
Rice vermicelli
Red cabbage
Green cabbage
Fresh mint 
Bean sprouts 
Eggs
Dried shrimp
Cooked pork blood 1/2 lb- depending on preference
8 pieces of Fried tofu- I use the "New Fay Wong Fried Tofu" 
6 tomatoes - depending on size 
1/2 lb of ground beef that's made into small ball sizes ( beef is for me) but not necessary in this type of soup
3 cloves of garlic - cut into small slices
3-4 squirts of ketchup( from Heinz ketchup bottle) Which enhance the redness in the soup
3 soup spoons of fish sauce
3-4 soup spoons of shrimp sauce ( lee Kum Kee) 
1-14 oz minced prawns in spices (I use the butterfly brand)
1 10.58 oz of rice vermicelli ( I like the Newtown Company brand) Bun Giang Tay
1. Prepare 1/2 pot of water of water 
Don't drink milk if you're consuming cooked pork blood. Hubby has been craving the cooked pork blood so here we go again.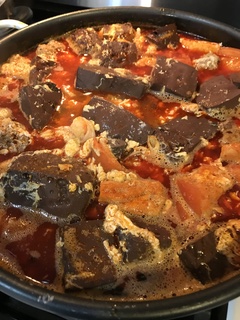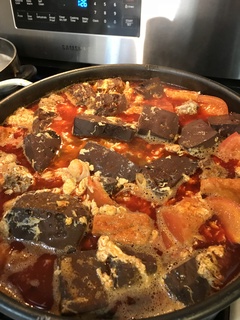 That 1/2 pot of water is about 5.7" of water (revert to photo for accurate measurement)
- While waiting for the water to boil; prepare ground beef (I add 1 tsp of salt, 1tsp of chicken powder, a pinch of sugar and about 1tsp of Black pepper into the 1 lb of ground beef then roll them up into little balls)
-put cooked pork blood into a separate pot to cook for at least 45 minutes
- Prepare garlics by cutting them into thin slices
-  When  water start boiling,  add the 14 oz  minced prawns into pot
- Add 3-4 soup spoons of shrimp sauce into pot
- add ketchup
- add fish sauce
- add a pinch if sugar
- add salt (preference)
- add 2 packets of 8 pieces of dried tofu (cut in half or quarter)
- add 6 tomatoes( cut in half or quarter)
-add ground beef balls into pot
Turn fire to medium low
- fry 1/2 lbs of shrimps then put aside
-fry the sliced garlics then put aside
-crack 4-6 eggs into a bowl, beat it well for about a minute then put about 1/4 cup of dried shrimps into mixture
- put aside
-cut cooked pork blood into cubes then put them into soup pot
- when soup pot reaches boiling point, slowly pour the eggs with shrimp in
- wait for it to boil again then add the Fried garlics on top
-Prepare sides:
Cut and shred : 
1 green cabbage 
1 Red cabbage
Vietnamese water spinach 
Mints
Last edited by Cheriblossom on Sat Oct 26, 2019 10:30 am; edited 6 times in total

---
Permissions in this forum:
You
cannot
reply to topics in this forum